Vacatura Projectmedewerker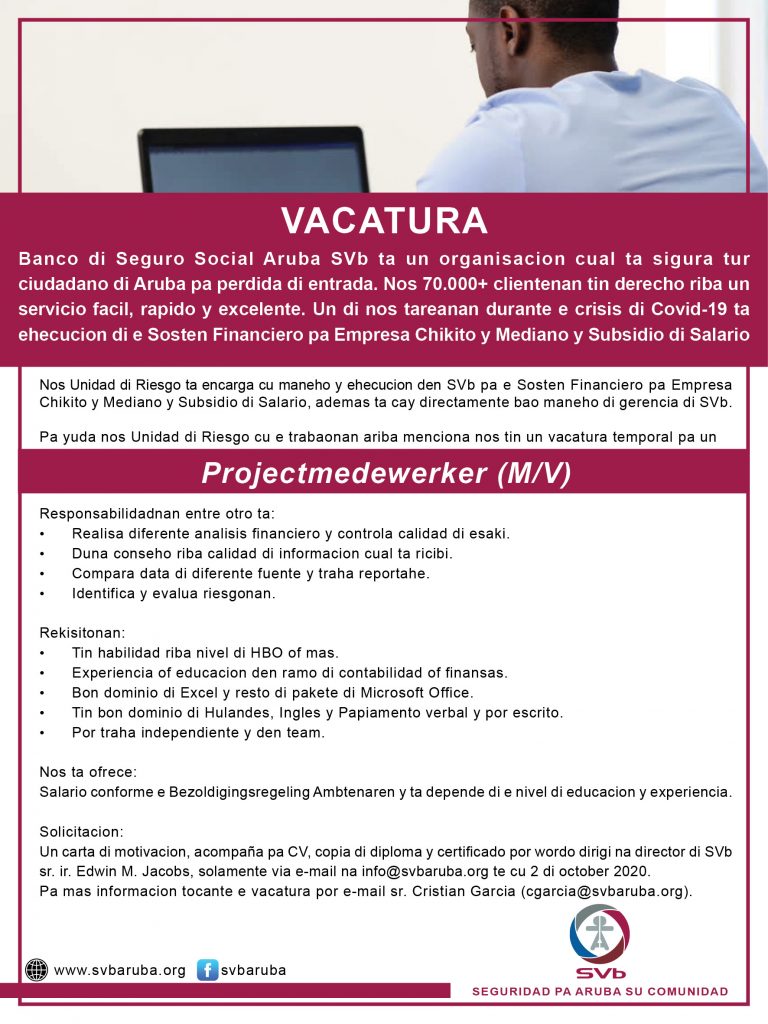 Banco di Seguro Social Aruba SVb ta un organisacion cual ta sigura tur ciudadano di Aruba pa perdida di entrada. Nos 70.000+ clientenan tin derecho riba un servicio facil, rapido y excelente. Un di nos tareanan durante e crisis di Covid-19 ta ehecucion di e Sosten Financiero pa Empresa Chikito y Mediano y Subsidio di SalarioNos Unidad di Riesgo ta encarga cu maneho y ehecucion den SVb pa e Sosten Financiero pa Empresa Chikito y Mediano y Subsidio di Salario, ademas ta cay directamente bao maneho di gerencia di SVb.
Pa yuda nos Unidad di Riesgo cu e trabaonan ariba menciona nos tin un vacatura temporal pa un
Projectmedewerker (M/V)
Responsabilidadnan entre otro ta:
• Realisa diferente analisis financiero y controla calidad di esaki.
• Duna conseho riba calidad di informacion cual ta ricibi.
• Compara data di diferente fuente y traha reportahe.
• Identifica y evalua riesgonan.
Rekisitonan:
• Tin habilidad riba nivel di HBO of mas.
• Experiencia of educacion den ramo di contabilidad of finansas.
• Bon dominio di Excel y resto di pakete di Microsoft Office.
• Tin bon dominio di Hulandes, Ingles y Papiamento verbal y por escrito.
• Por traha independiente y den team.
Nos ta ofrece:
Salario conforme e Bezoldigingsregeling Ambtenaren y ta depende di e nivel di educacion y experiencia.
Solicitacion:
Un carta di motivacion, acompaña pa CV, copia di diploma y certificado por wordo dirigi na director di SVb sr. ir. Edwin M. Jacobs, solamente via e-mail na info@svbaruba.org te cu 2 di october 2020.
Pa mas informacion tocante e vacatura por e-mail sr. Cristian Garcia (cgarcia@svbaruba.org).