Vacatura Dokter di Control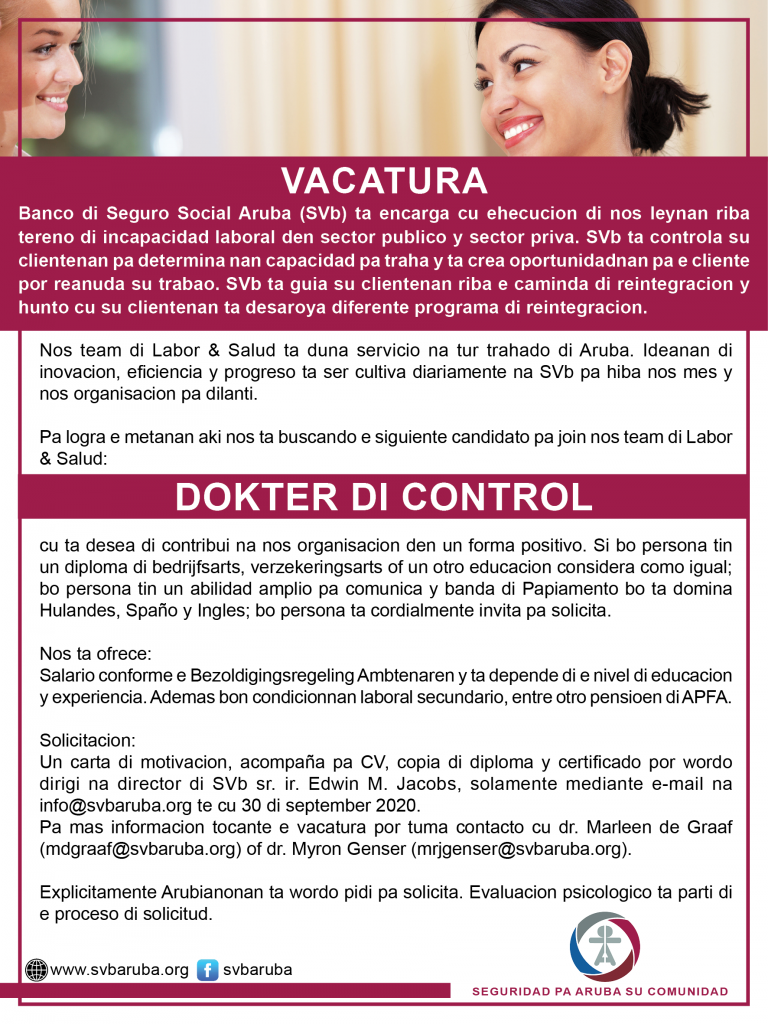 Banco di Seguro Social Aruba (SVb) ta encarga cu ehecucion di nos leynan riba tereno di incapacidad laboral den sector publico y sector priva. SVb ta controla su clientenan pa determina nan capacidad pa traha y ta crea oportunidadnan pa e cliente por reanuda su trabao. SVb ta guia su clientenan riba e caminda di reintegracion y hunto cu su clientenan ta desaroya diferente programa di reintegracion.
Nos team di Labor & Salud ta duna servicio na tur trahado di Aruba. Ideanan di inovacion, eficiencia y progreso ta ser cultiva diariamente na SVb pa hiba nos mes y nos organisacion pa dilanti.
Pa logra e metanan aki nos ta buscando e siguiente candidato pa join nos team di Labor & Salud:
Dokter di Control
cu ta desea di contribui na nos organisacion den un forma positivo. Si bo persona tin un diploma di bedrijfsarts, verzekeringsarts of un otro educacion considera como igual; bo persona tin un abilidad amplio pa comunica y banda di Papiamento bo ta domina Hulandes, Spaño y Ingles; bo persona ta cordialmente invita pa solicita.
Nos ta ofrece:
Salario conforme e Bezoldigingsregeling Ambtenaren y ta depende di e nivel di educacion y experiencia. Ademas bon condicionnan laboral secundario, entre otro pensioen di APFA.
Solicitacion:
Un carta di motivacion, acompaña pa CV, copia di diploma y certificado por wordo dirigi na director di SVb sr. ir. Edwin M. Jacobs, solamente mediante e-mail na info@svbaruba.org te cu 30 di september 2020.
Pa mas informacion tocante e vacatura por tuma contacto cu dr. Marleen de Graaf (mdgraaf@svbaruba.org) of dr. Myron Genser (mrjgenser@svbaruba.org).
Explicitamente Arubianonan ta wordo pidi pa solicita. Evaluacion psicologico ta parti di e proceso di solicitud.